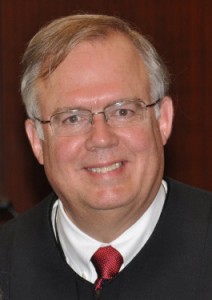 Charles P. Gilliam is the Register of Deeds of Wake County.
Charles Gilliam was born in Thomasville, North Carolina in 1950. He graduated with a BS in Business Administration from the University of North Carolina at Chapel Hill and received a Masters of Business Administration degree from the University of North Carolina at Greensboro.
Gilliam worked his way through MBA school while a branch manager of a savings and loan and then started a career as an accountant and financial analyst at Ford Motor Company in Michigan.
In 1978 he enrolled in law school. Gilliam was Managing Editor of the Law Review, received numerous awards for scholarship and graduated summa cum laude, while continuing his full time employment to finance his education. His law degree is from Michigan State University College of Law. He was first admitted to the bar in 1982.
His first legal position was with the Office of General Counsel of Xerox Corporation where he advanced to an executive level position. Later, he was a co-founder of an intellectual property oriented technology company where he handled legal affairs. He is an inventor of over two dozen patents for computer related inventions.
Gilliam became Register of Deeds in 2017. His current term of office runs until December 1, 2020.
He is a former District Court judge. Prior to and after being appointed a judge he taught legal classes at North Carolina State University and provided training to lawyers.
As an attorney Gilliam has handled complex litigation, business transactions for large and small businesses, funding and operating entrepreneurial and start-up companies, international trade and intellectual property.
He counts as the most interesting portion of his legal career living in Europe and working in Eastern Europe before and after the fall of the Berlin Wall. He helped establish new trading arrangements between the West and the newly freed people of the East.
Gilliam is married and has two children who are graduates of the Wake County Public Schools. Both children graduated from college majoring in computer science. He likes to grow vegetables and perennial flowers. He is a past President of Gardeners of Wake County.